You know that favourite place in your town that you happened upon unexpectedly but now visit so often they know your name? Or the place you take friends to when they visit because you know it'll be perfect every time? Somewhere they serve delicious food with excellent service. Whether you're looking for a sandwich, a cream tea or a cake, we've compiled a few of North Wales' best cafés to suit everyone.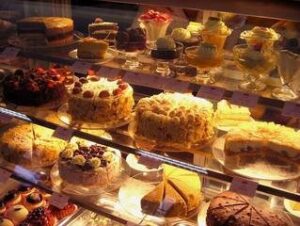 Itaca is a full-service café on one side and internet café on the other side so if patrons want to send a few emails or check up on social media this is an excellent place to do so. Itaca is a community action project which works alongside the Trussell Trust to provide services aimed at disenfranchised youth. While the outside of the building doesn't look like they're going to have the best coffee in town, visitors are in for a real treat. Locally sourced coffee served inside is top notch by any expectation and the food is exceptional.
L's Coffee & Books, with locations in both Conwy and Llandudno Junction is a small, locally owned café that brings the spirit of Wales alive. The Conwy location has a bookstore inside so users can relax and open a book while they sip L's locally famous bespoke coffee or one of their many teas. Also available are smoothies, a variety of cakes to choose from and a light lunch menu. Both child and dog friendly so bring the entire family! Outdoor seating is available if drinking coffee under the sun is best. The Llandudno location is proud to offer their special artisan coffee as well as pastries, sandwiches, and all-day breakfast. While their specialty crafted coffee is what they're known for, they also have juices and smoothies to round out the menu.
Undeniably the best scones in Llandudno come from Café Indulgence, where unexpected flavour combinations will treat your palate for a great price. Alongside blueberry, lemon, and sultana you'll find their unbeatable rhubarb and ginger scones which are talked about by visitors and locals alike. If scones aren't what you're craving, the menu also features fish & chips, jacket potatoes, sandwiches, paninis, soups, and salads. Of course, there is also a selection of teas, coffees, hot chocolate, milkshakes, juice, and fizzy drinks. This 4.5 star rated café is known for its fantastic vegan options and gluten free fare. Always dog friendly with outdoor seating. Call ahead for the ultra-friendly staff to make a big batch of scones to take home with you! They're happy to accommodate any orders.
2 The Square is a small café for a light bite while visiting Lancaster Square in the Conwy town centre. Put your shopping bags down while you have a toastie or a scone at this café nestled just a couple minutes from the estuary front. With many vegetarian, vegan, gluten free and kid-friendly options to choose from, there is something for everyone here. Have a cream tea or a freshly squeezed juice aside a freshly baked cake. Have a coffee or brew 'to-go' on the way out to enjoy your day.
With a specialty on the sweet stuff, Take a Break café in Llandudno offers patrons a wide range of delicious cakes and brownies as well as mouth-watering cupcakes and scones. Take a Break café is locally recognised for their freshly prepared food, especially the Welsh rarebit. Friendly staff are happy to take your order for a full English, paninis, soups, baps, and sandwiches. Of course, these are all served with a side of various teas, coffee, lattes, and cappuccino.
What is your favourite café? Let us know and we'll be sure to include it in another post about the wonderful North Wales.